Pricing strategy & your business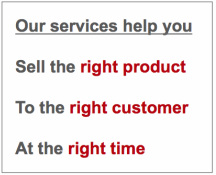 What is pricing strategy & how can it be used?
Ranson Pricing helps our Clients improve their profitability through growing revenues rather than cutting costs. The pricing strategy that we develop is the art of using a company's understanding of it's customers and markets to ensure that the right product is sold to the right customer at the right time. The techniques in our
Pricing Strategy Toolbox
have been developed especially to help your company achieve this.
How is pricing strategy distinct from sales & operational pricing?
Ranson Pricing's services complement your organisation's existing sales effort and operational pricing support to improve commercial performance. Sound pricing strategy provides a framework that ensures your sales professionals develop business through offering prices that are appropriate to your company's wider objectives.
How is pricing strategy distinct from revenue management?
Revenue Management focuses on optimisation processes and statistical forecasts. Pricing strategy on the other hand is a more intuitive discipline, although backed up with robust analysis. Ranson Pricing's services complement your existing revenue management capability through capturing incremental revenue opportunities without the need to apply influences, improving your systems' forecasting performance in the medium to long term.
How can pricing strategy services help my business?
Our pricing strategy services can help you build your understanding of how your product stands in the market, which customer segments you serve and which you do not. With this information at your side we can help you to price your products more effectively. Businesses focusing on pricing strategy increase their profitability through capturing more revenue from existing customers and selling spare capacity or inventory to customers who would not otherwise purchase.
What else does Ranson Pricing offer?
We also apply pricing strategy concepts across a number of other interesting areas. These include conducting trials to evaluate customer response to new pricing proposals, evaluating the revenue impact of developing new products and services, nurturing your in-house pricing expertise, and providing ancillary services to establish new revenue streams. With our regulatory perspective, we can also help you make the case for proposing changes to price regulations to your local government or regulatory body.
How would Ranson Pricing work with my business?
Whatever your pricing strategy needs, Ranson Pricing will be happy to help you meet your company's objectives. We offer entirely bespoke pricing solutions from our extensive
Pricing Strategy Toolbox
to accommodate each Client's specific requirements. We also build tools that Client Teams can use to support business requirements across short, medium and long time periods.
---
---
Pricing strategy & non-commercial organisations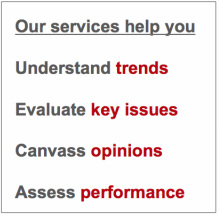 Which non-commercial organisations does Ranson Pricing work with?
Ranson Pricing's services are also available to organisations and government bodies taking an interest in pricing strategy and policy. We offer our services to government departments, regulators and consumer groups.
Why is pricing strategy relevant to government departments & regulators?
The price of goods and services available for sale is a key component of markets and the wider economy. Ranson Pricing's services can assist government departments and regulators construct legislative or regulatory tools that boost competitiveness in markets whilst ensuring that well-managed businesses continue to flourish.
Why is pricing strategy relevant to consumer groups?
As businesses develop a wider and wider selection of tariffs it becomes increasingly difficult for consumers to ensure that they obtain the best possible deal. Ranson Pricing helps consumer groups through providing an 'in-the-business' perspective and ensuring that the consumer group is ready to advise consumers about how new tariffs and distribution channels will impact them immediately after they appear.
What type of work can Ranson Pricing do for my organisation?
The potential scope of work for such non-commercial organisations is extremely large so please get in touch with us to discuss your individual requirements. Examples of projects where Ranson Pricing can provide assistance include refining a regulatory framework, improving communications between service providers and consumers, evaluating industry trends in pricing, assessing the pricing strategy of a franchise bidder and evaluating the pricing of an incumbent service provider.
What services does Ranson Pricing offer to non-commercial organisations?
We offer an entirely bespoke service based on our
Pricing Strategy Toolbox
to accommodate your specific requirements. Our tools and techniques are specially designed to help you ensure that your organisation is fully up-to-speed with the latest trends, key issues regarding pricing and the viewpoints of service providers.
---
---
Our values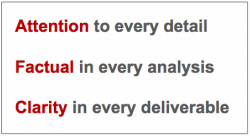 Ranson Pricing offers our experience, analytical expertise and passion for innovation to establish creative and robust means of developing revenue streams.

The services that we deliver to you will always be based on a rigorous analysis of your markets and customer base that is appropriate to your requirements. Our work is entirely fact-based and we pride ourselves on offering clear conclusions and recommendations.

---
---
---
Copyright Ranson Pricing Limited 2017
Ranson Pricing Limited offers pricing strategy consulting services to a wide range of industry groups. The pricing strategy that we develop is the art of using a company's understanding of it's customers and markets to ensure that the right product is sold to the right customer at the right time. Our bespoke pricing strategy solutions are based on robust and rigorous analysis. To talk to us about pricing strategy consultancy visit our
contact us
page.